Watch these 20 spectacular photos of Indonesia that will make you visit the country right now.
Want to get out of the city buzz and spend some quality time with your beloved in the lap of mother nature then Indonesia serves as the unadulterated and a spectacular sojourn perfect to fall under the bucket list of world's most romantic places. Moreover, the beaches, culture and the cuisines only end up luring you all the more. However, when in Bali, do like Balinese. However, away from the mainstream, the beautiful island gives you a chance to wander in the rice fields and dance among the butterflies with your partner, while treating your eyes to the immense beauty and lush green fields at Campuh Ridge walk. Furthermore, Ubud also gives the opportunity to sweep your date off their feet by an exclusive night in a secret location-Bamboo Gazebo with six different menus to choose from.
Blackboard had earlier picked Indonesia as one of the top romantic places to visit in the world. The country is intriguingly beautiful with world class beaches, magnanimous mountains, plethora of religious sites and a thriving and vibrant cultural presence. It follows three different time zones.
20 spectacular photos of Indonesia that will make you visit the country right now
1. Temples of Bali, Indonesia
2. Prambanan Temple: One of the greatest Hindu temples of Indonesia built on 9th Century is a UNESCO World Heritage Site
3. Besakih temple is the largest Hindu temple in Indonesia built on the south slopes of Mount Agung, the principal volcano of Bali
4. Prambanan temple is dedicated to Hindu God – Shiva, Brahma and Vishnu
5. A vibrant culture with plethora of temples
6. Thriving Buddhist sites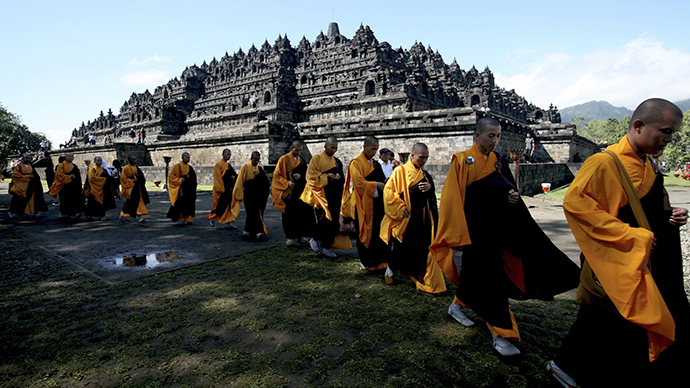 7. Borubudur Temple – Located in Central Java, it's one of the greatest Buddhist monuments in the world dating from 8th and 9th century
8. Spectacular landscapes that looks like a fairy tale land
9. Mount Rinjani is an active volcano in Lombok and highly popular for trekking and hiking. It's protected by the Gunung Rinjani National Park built in 1997
10. Gili Island
11. Spectacular Isles of Bali is the perfect remedy for some hidden wanderlust
12. North Maluku Islands: These islands are home to the largest bee in the world Wallace's giant bee (Megachile pluto) and over two hundreds different type of bird
13. Ora beach is a hidden paradise in North of Serum Islands. It is surrounded by massive limestone hills
14. Lombok island is a great place to find serenity and explore the marine life
15. Lake Toba is a large natural lake occupying the caldera of a super volcano
16. Stunning sunsets
17. Enter Jurassic Park: Komodo National Park is a World Heritage Site. Spread over 390 sq. km you will find the rare Komodo dragon in its natural habitat
18. Rinca, Padar and Komodo Islands together form the World Heritage site
19. Java is the World's 13th most largest island by its sheer size. It is blessed to have over 450 different bird species. A truly bird watcher's paradise
20. Java is at the heart of Indonesia's centre of politics, economics and culture

Facts about Indonesia that you should know as a traveller:
Archipelago:
The Republic of Indonesia is the largest archipelago in the world comprising 13,466 large and small tropical islands fringed with white sandy beaches, many still uninhabited and a number even still unnamed. Straddling the equator, situated between the continents of Asia and Australia and between the Pacific and the Indian Oceans, it is as wide as the United States from San Francisco to New York, equaling the distance between London and Moscow.  Indonesia has a total population of more than 215 million people from more than 200 ethnic groups. The national language is Bahasa Indonesia.
Well known islands:
Among the most well known islands are Sumatra, Java, Bali, Kalimantan (formerly Borneo), Sulawesi (formerly Celebes), the Maluku Islands (or better known as Moluccas, the original Spice Islands) and Papua. Then, there is Bali "the world's best island resort" with its enchanting culture, beaches, dynamic dances and music. But Indonesia still has many unexplored islands with grand mountain views, green rainforests to trek through, rolling waves to surf and deep blue pristine seas to dive in where one can swim with dugongs, dolphins and large mantarays.
Wildlife:
Her wildlife ranges from the prehistoric giant Komodo lizard to the Orang Utan and the Java rhino, to the Sulawesi anoa dwarf buffalos, to birds with exquisite plumage like the cockatoo and the bird of paradise. This is also the habitat of the Rafflesia the world's largest flower, wild orchids, an amazing variety of spices, and aromatic hardwood and a large variety of fruit trees. Underwater, scientists have found in North Sulawesi the prehistoric coelacanth fish, a "living fossil" fish, predating the dinosaurs living some 400 million years ago, while whales migrate yearly through these waters from the South Pole. Here are hundreds of species of colourful coral and tropical fish to admire.
Hotels:
Facilities-wise Indonesia's hotels are second to none. In fact, many of our luxurious and unique hotels have constantly been listed as some of the best in the world, located on white sandy beaches, overlooking green river valleys, or situated in the heart of busy capital Jakarta. While Indonesia's cities like Jakarta, Bandung, Surabaya, or Makassar are a hive of activities for business and leisure and a paradise for shoppers, offering upscale boutiques selling top brand names, to local goods at road-side stalls. Here gourmets can treat themselves to the many regions' delectable spicy cuisine or dine sumptuously at international restaurants. And for sheer relaxation, Indonesia Spas are second to none to reinvigorate both body and mind.
Flight Connectivity:
Jakarta, Bali, Medan, Padang, Bandung, Solo, Yogyakarta, Surabaya, Makassar are connected by direct international flights, and many regular and low cost carriers fly passengers to Indonesia's towns or remote locations.
Currency:
The Indonesia Rupiah is also called IDR. Information of daily exchange rate can be found in newspapers or from the net. Some Indonesia banks provide this on their websites. IDR and US$ are the most acceptable currencies. Most tourism resorts have money changer facilities. When you are traveling to remote areas it is advisable to exchange your money and clear your check. Credit cards are only acceptable in big hotels, restaurants, shops and traveling agencies.
Electricity:
Electric power supply is 220 volts in all regions. So be careful with your 110-volt electronic equipment. The sockets will only fit with with two pins rounded-tip plugs (technically known as Type C, E, and F) or use adaptors. Most hotels and many restaurants in large cities provide internet connections or free WiFi.
This post is written in collaboration with Indonesia Tourism Board Office, India.